Sunday is our cleaning day.

Wildebeest and Zebu cleaned their rooms, vacuumed, and "scoured" the downstairs bathroom.

Zippy Ramone vacuumed and cleaned the two upstairs bathrooms.

Guess what I did?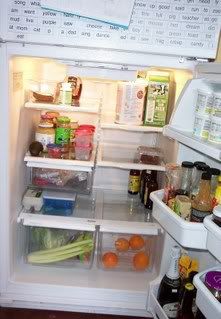 Here's a close-up in case you need another hint:



I'd forgotten you're supposed to be able to see the contents of the fruit and veggie bins.
(Visibility! What a concept!)

So long, expired vitamin powder. Farewell, fossilized chile relish. Ta-ta, coagulated strawberry syrup.

Oh my . Get outta here, half-cup of sauerkraut. And take that furry whatever it is with you.


(Confession: I keep opening the fridge to admire my handiwork. That tells you a little something about my worth as a domestic goddess).